Virtual Camp Meeting Overview
Programs are about an hour or less in length.
Daily Disciples and Prayer Meetings are hosted on Zoom. Meeting details can be found on the Virtual Camp Meeting website.
All other programs will be embedded on the Virtual Camp Meeting website and premiered through the Alberta Conference Facebook page and YouTube channel. Youth meetings will also be available on the Youth Facebook page.
Programs will be archived on Facebook, YouTube and Vimeo.
There will be moderators on each platform during the meetings to engage with viewers and connect them with technical assistance as needed.
Technical support is also available during the first weekend by calling the Conference Office at (403) 342-5044. We will be available approximately 30 minutes before the program begins.
Technical assistance for the Zoom morning devotions and prayer meetings is available by calling the appropriate phone number included in the connection information.
We encourage members to give through the Conference church as is customarily done at Camp Meeting and to reduce the work for local church treasurers. Still, members can donate online through their local church if they wish. Giving information is available at albertaadventist.ca/giving.
The Conference will be posting to the Twitter and Instagram accounts as well.
Friday Schedule
Friday Morning:
7:00 am to 8:00 am – Daily Disciples – Principle #7: The Lord of the Harvest!
8:00 am to 9:00 am – Daily Prayer Meeting – Be Accepting
10:00 am to 11:00 am – Education Children's Hour
Friday Afternoon:
Friday Evening:
7:00 pm to 8:00 pm – Evening Meeting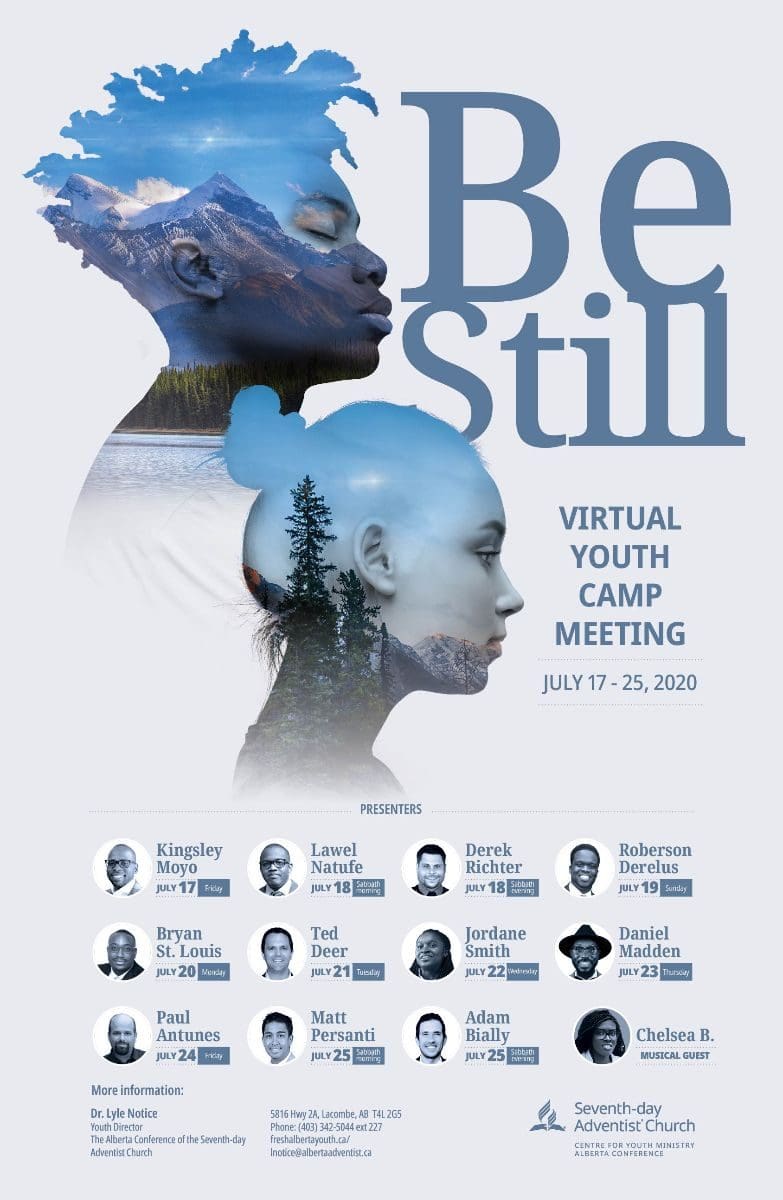 "Be Still"
Virtual Youth Camp Meeting! Meetings are daily @ 7:00 pm. Friday July 24, be sure to tune in to hear Pastor Paul Antunes.
Education Children's Hour Program
Hosted by Brent Van Rensburg, this is a lively daily program Monday to Friday @ 10am especially for your kiddos (ages 5 – 12 years) with singing, nature nugget and a story! Set a reminder so your kids don't miss any of the fun!
Dialogue with Debbie
Dialogue with Debbie takes place Monday to Friday at 1pm. At a "normal" camp meeting, Debbie's interviews are aired over the radio in an audio format. But this year, you get to enjoy the dialogue via video!
FRIDAY, JULY 24, 2020 – Yellowknife – Pastor Geraci; Planned Giving & Trust Services/Philanthropy – Lynn McDowell; Administration Wrap-Up
Daily Disciples
Join us for an exciting interactive meeting each morning in learning practical principles in how to live daily as Disciples of @ 7:00 am from Sabbath July 18th to Sabbath July 25th. There will worship time, sharing time, lesson time and a daily challenge to put to use what you learn! Jesus gave the instructions to "Go and make disciples," these principles will inspire you to both live as a disciple and teach others! Join Pastors Ted and Sandra Deer as they, together with a daily presenter, share these powerful messages!
Daily Live Online Prayer Meetings
Join Prayer Ministries Coordinator Honey Todd and her team, including Pastors Ian Bramble, Matthew Piersanti, and Don Corkum, as they lead us into a time of transformational prayer. Take this opportunity to connect to the Shepherd and one another in the morning with your brothers and sisters. How does prayer impact our lives? In our time together, we will explore how prayer can help us: Be a Safe space for the Marginalized Be Humble Be Pure In Heart, Be a Peacemaker, How to Speak Life, Be Fully Dependant on God, Be Fearless, Be Accepting and How to be Intentionally Loving.
Please note that you must register in order to participate in the live online prayer meetings.
Offerings for Virtual Camp Meeting
We recommend donations for Virtual Camp Meeting offerings be made through the Alberta Conference Church by following the links below for AdventistGiving or eTransfer. Cheque, Money Order or Bank Draft can be sent to the Conference Office as well. Offerings being collected during virtual Camp Meeting are: . . .
ABC Christian Book Store
The ABC Christian Store in Lacombe, Alberta carries a large supply of Bibles, health food and non-meat alternative foods, children's materials, music, DVDs, gifts, devotional materials, and much more. Check out their Summer Sale and their Summer Food Sale. . . .
ADRA Virtual Camp Meeting Promo Video
Got An Announcement?
To have your announcement included in the daily Virtual Camp Meeting TODAY ePaper, please email: todaypaper@albertaadventist.ca. To have your announcement included in a particular day's ePaper, your announcement must be received by 3:00 pm the previous day.