Sabbath Schedule
Sabbath Morning:
7:00 am to 8:00 am – Daily Disciples – Go and Make Disciples
8:00 am to 9:00 am – Daily Prayer Meeting – Be Intentionally Loving
10:00 am to 11:00 am – Sabbath School – Adventist Education
10:00 am to 11:00 am – Children's Time – Kindergarten/Primary
11:00 am to 12:00 pm – Adult Worship Service – Pastor John Murley – To The Least Of These
11:00 am to 12:00 pm – Youth Worship Service – Pastor Matthew Piersanti – Disappointment & Hope
Sabbath Afternoon:
Sabbath Evening:
7:00 pm to 8:00 pm – Evening Meeting
We hope you were richly blessed by this year's Virtual Camp Meeting. If you have missed any of the Virtual Camp Meeting programs, or you would just like to see any of them again, they are all available HERE.
Sabbath Morning Programming
Sabbath School
Education Director Ronda Ziakris and Sabbath School Ministries Director Olaf Clausen with Associate Education Director Brent Van Rensburg have a lively discussion on the blessing and importance of Adventist Education.
---
Children's Time
This lively program is especially for your kiddos (ages 5 – 12 years) with singing, nature nugget and a story!
---
Worship Services
Adult
Join our final Sabbath morning hosted by Edmonton South Church as they bring us praise, music and the word with Pastor John Murley, on the topic "Reflecting the Shepherd: To the Least of These."
---
Youth
Join our final Sabbath morning Youth Worship Service to hear Pastor Matthew Piersanti speak on the topic of "Disappointment & Hope".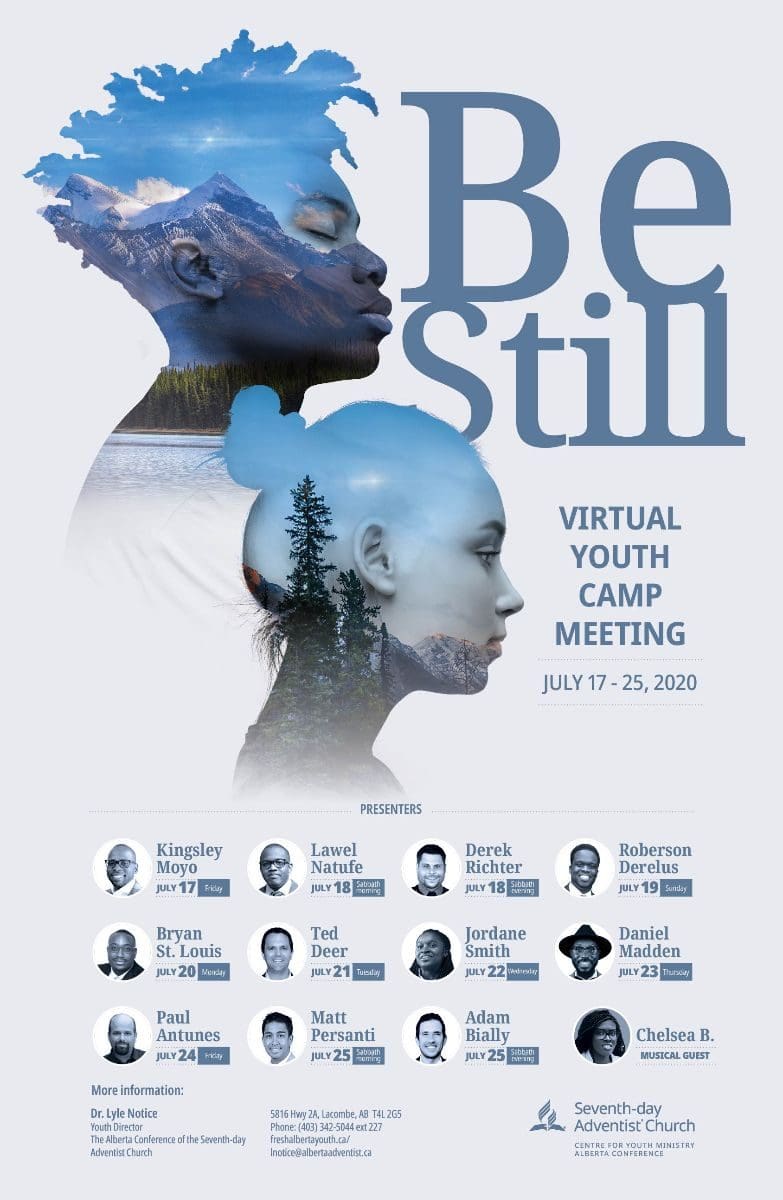 "Be Still"
Virtual Youth Camp Meeting! Meetings are daily @ 7:00 pm. Sabbath July 25, be sure to tune in to hear Pastor Adam Bially speak on the topic "Still".
Daily Disciples
Join us for an exciting interactive meeting each morning in learning practical principles in how to live daily as Disciples of @ 7:00 am from Sabbath July 18th to Sabbath July 25th. There will worship time, sharing time, lesson time and a daily challenge to put to use what you learn! Jesus gave the instructions to "Go and make disciples," these principles will inspire you to both live as a disciple and teach others! Join Pastors Ted and Sandra Deer as they, together with a daily presenter, share these powerful messages!
Daily Live Online Prayer Meetings
Join Prayer Ministries Coordinator Honey Todd and her team, including Pastors Ian Bramble, Matthew Piersanti, and Don Corkum, as they lead us into a time of transformational prayer. Take this opportunity to connect to the Shepherd and one another in the morning with your brothers and sisters. How does prayer impact our lives? In our time together, we will explore how prayer can help us: Be a Safe space for the Marginalized Be Humble Be Pure In Heart, Be a Peacemaker, How to Speak Life, Be Fully Dependant on God, Be Fearless, Be Accepting and How to be Intentionally Loving.
Please note that you must register in order to participate in the live online prayer meetings.
Offerings for Virtual Camp Meeting
We recommend donations for Virtual Camp Meeting offerings be made through the Alberta Conference Church by following the links below for AdventistGiving or eTransfer. Cheque, Money Order or Bank Draft can be sent to the Conference Office as well. Offerings being collected during virtual Camp Meeting are: . . .
ABC Christian Book Store
The ABC Christian Store in Lacombe, Alberta carries a large supply of Bibles, health food and non-meat alternative foods, children's materials, music, DVDs, gifts, devotional materials, and much more. Check out their Summer Auditorium Sale, July Month Theme, PPPA Summer Book Sale and their Summer Food Sale. . . .
ABC Bookmobile Summer 2020 Run
In addition to the physical store location in Lacombe, Alberta, the ABC Christian Store operates a Bookmobile which serves Alberta, Manitoba and Saskatchewan. Due to unforeseen circumstances, the ABC Bookmobile Summer 2020 Run had to be changed. . . .
ADRA Virtual Camp Meeting Promo Video
Announcement
We regret to announce the passing of Sylvester Riffin age 90, on July 19. He died peacefully at home with family by his side. Tributes may be directed to Wilson Funeral Home, 6120 Highway 2A, Lacombe, AB T4L 2G5